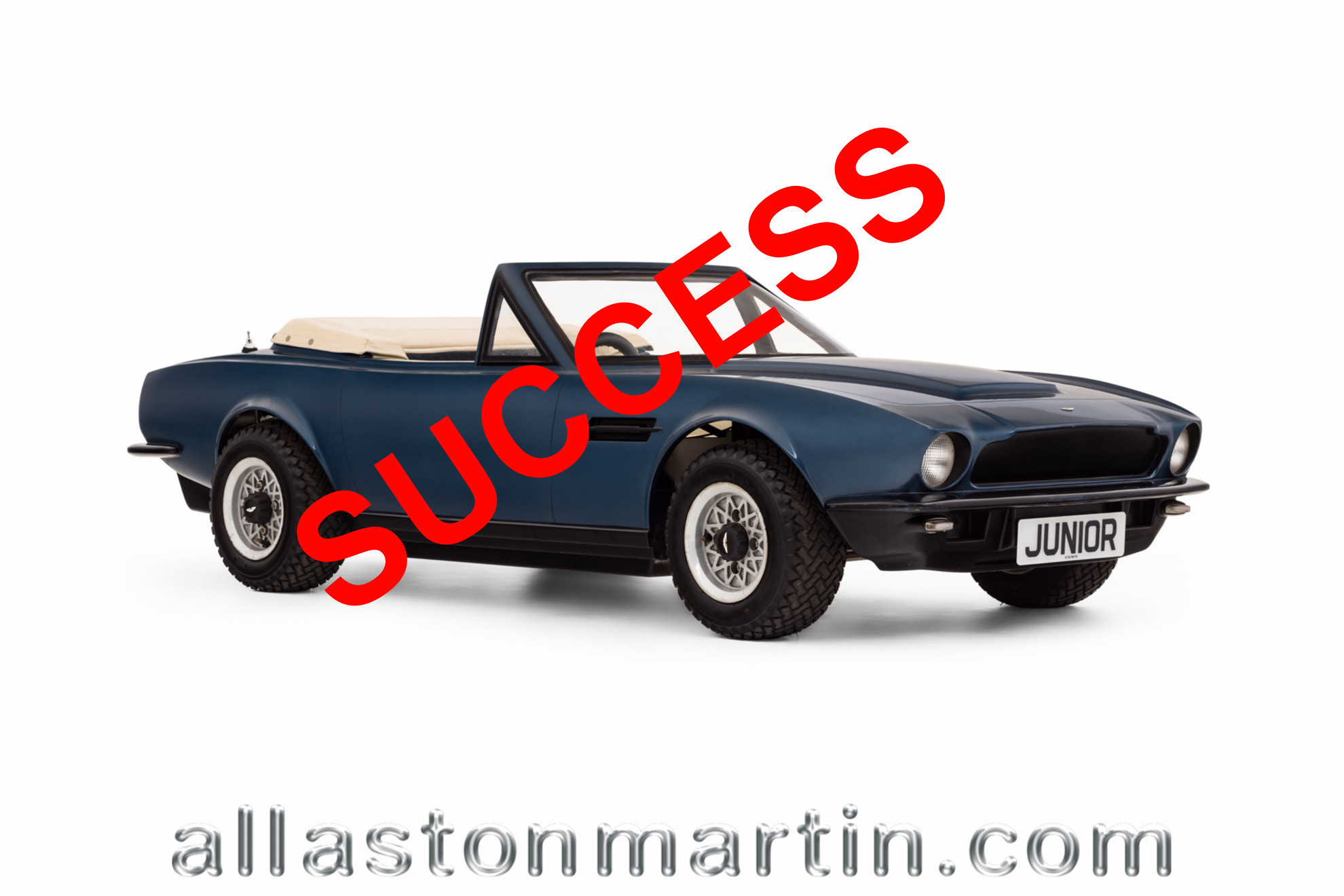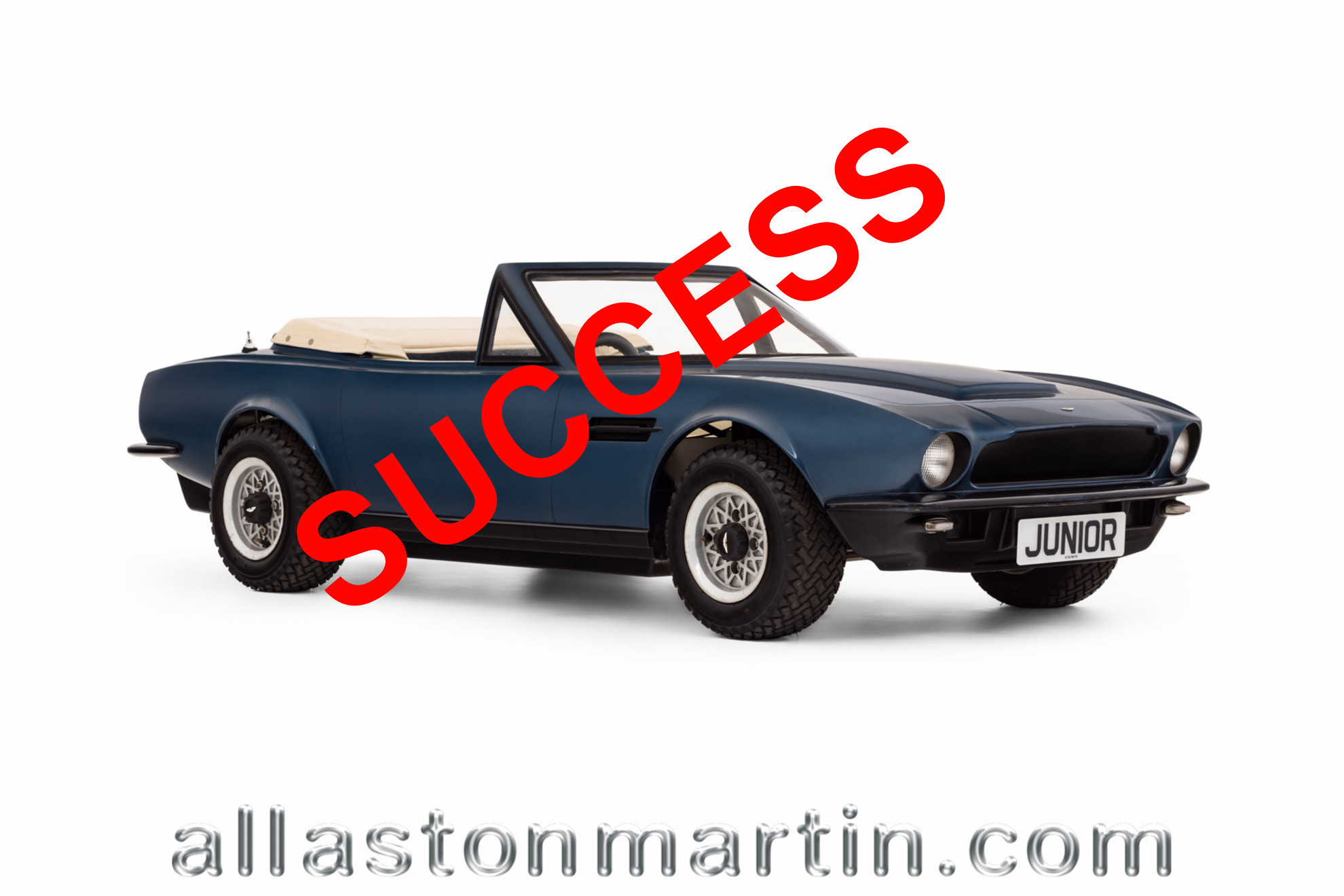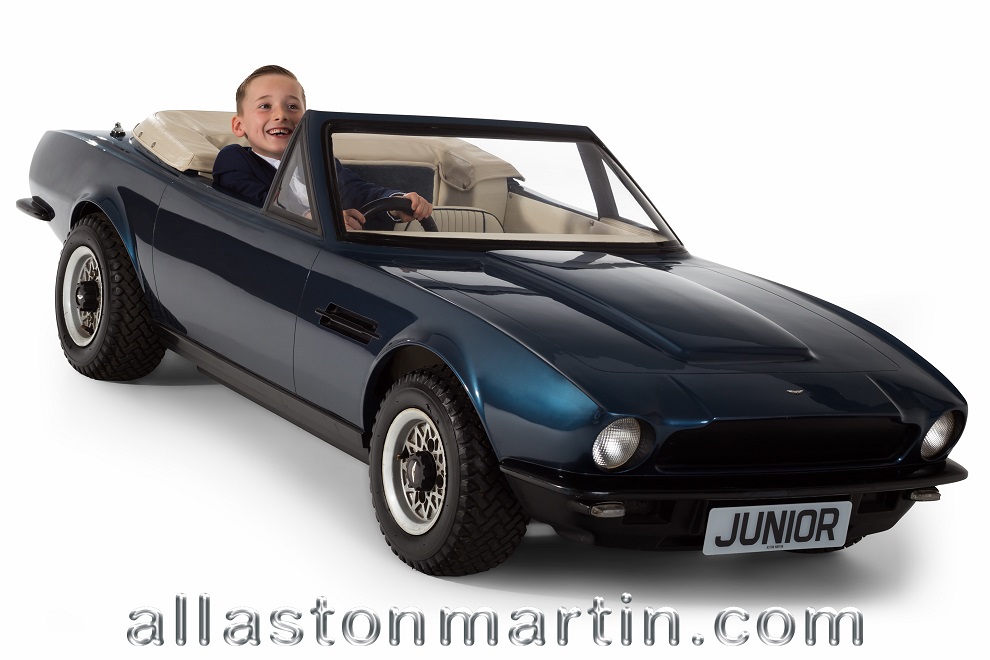 Aston Martin V8 Volante Junior - £
Chassis Number:
Engine Number:
UK Registration Number:
Date of first reg: 1989
Exterior colour: Chichester Blue
Hood:
Interior colour: Magnolia Hide piped Blue
Current Odometer reading:
Mileage Warranty:
Steering: Right
Transmission: Semi-Auto
Background
Background:
You have heard references to models or toys – put them all to one side, this is a true Aston Martin.
The then Chairman of Aston Martin Lagonda Ltd., Victor Gauntlett, said in 1989 "Our aim has been to produce as near an exact replica of the real thing as possible. Only best quality materials and parts will be used, as befits any car bearing our name."
And so a 4:7 scale Aston Martin V8 Volante joined the model line-up. A hand crafted replica of Aston Martin's flagship V8 Volante – just on a different scale. At 8 feet 6 inches long (2.5098 metres) and 3 feet six inches wide (1.0688 metres), this two-seater sportscar was driven through five forward and one reverse gear via an automatic clutch.
A Briggs Stratton engine gave it a potential top speed of 40mph and road holding assured with shock absorbers and coil springs and steering a reassuring rack and pinion set up.
Creature comforts, being an Aston Martin, came from Connolly hide covered seats and Wilton carpets while the pedals were adjustable to suit children of different sizes. And when we say "children", rumours persist of after-hours "road tests" at Newport Pagnell when these cars were in production.
The production values included a body of hand laid glass reinforced plastic, strengthened windscreen pillars and a header rail to act as a roll over bar. The seats may have been hide covered but they have the strength of their steel frames, a 12-volt battery maintenance free battery supports electrics that include twin 4 inch head lamps, running lights, fog lights, horn and even a radio!
The final touch were a full set of specially made alloy wheels fitted with tyres to suit any hard surface. A proper Aston Martin!
Vehicle History
Acquired from Aston specialists, RS Williams, by the current Belgian owner, as part of a static collection that itself includes a number of full sized Aston Martins – ownership of this V8 Volante Junior served to confirm the car's position as a true collector's piece.
Presented today in outstanding condition, it would make a handsome addition to any Aston Martin collection or perhaps is destined for the Christmas stocking of who loves the full sized version in their parents' garage and would like one of their own!
These Juniors rarely come to market and this is a great opportunity to own a piece of true Aston Martin Heritage.
MOT History
MOT Date Odometer
There are currently no MOT history details for this car.
Service and Maintenance Record